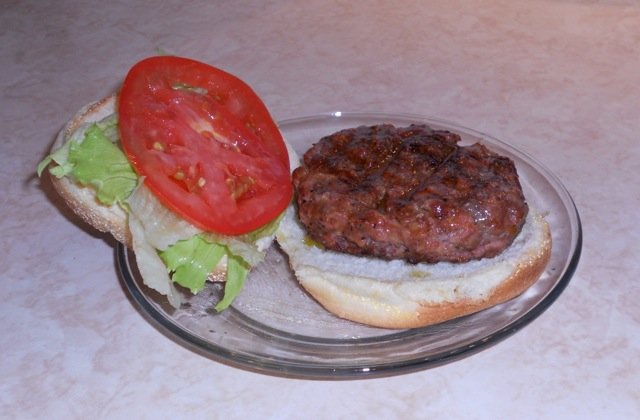 OMFG Burger
Ingredients
1

lb

Extra lean ground beef

1

lb

Pork Sausage

1

tsp

Black Pepper

1

tsp

Salt

Mushrooms

Optional topping (sauteed)

White Onion

Optional topping (sauteed)
Instructions
Slice the casing on the sausages and push the contents into a bowl.Add in the ground round.

Add fresh ground black pepper and ground sea salt to taste.

Squish it all up with your hands so it's evenly mixed up.

Form the meat into big meat nuticles to get them all the same size then flatten them out. Put a dent in the top so they don't puff up when they cook and end up rare in the middle.

Rub the grill surface with some oil (on paper towel with tongs).

Cook up the burgers till cooked through (juices run clear – minimum 165 degrees)…I use medium high heat – about 400 or so.
Notes
If you opt for the optional ingredients:
Heat up a frying pan, then drop in some oil, heat that up…
Pop in the white onions and cook them down till they are about 70% done/caramelized.
Now add the mushrooms, and give everything a good mix to coat the mushrooms with oil.
Resist the urge to play with the pan when the mushrooms are in there. You should "flip" them only a couple of time. If you play with them too much in the pan they won't brown properly and they'll be mooshy.
Try to time the finish of the options with the burgers.
Serve on top of the burgers and enjoy!