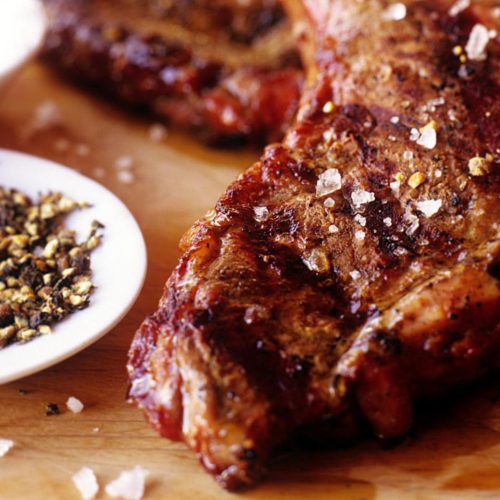 Steak Spice A-La-Montreal
Ingredients
1/2

Cup

Coarse Sea Salt

1/2

Cup

Whole Peppercorn blend (red, white, black)

1/4

Cup

Mustard Seeds

1/4

Cup

Coriander Seeds

1/4

Cup

Granulated Onion (or onion flakes)

1/4

Cup

Dill Weed

1

tsp

Chili Powder
Instructions
Preheat fry pan on medium heat, add whole peppercorns. Heat whole peppercorns for a few mins until the aroma comes up. Don't heat them too long – if you burn them they'll be bitter.

Mix the still heated peppercorns, mustard seed, and coriander seed in a mixing bowl.

Lightly grind the ingredients currently in the mixing bowl in a spice grinder. You want to break up the whole spices but not pulverize them. I use two quick hits on the grinder in batches until the contents of the bowl have been broken up.

Note:  You need to break up the peppercorns when they're still warm. Key to the flavour.

Combine the remaining ingredients with the freshly ground ingredients.

Store in an airtight container in a cool dark place.